Wine Festival 2023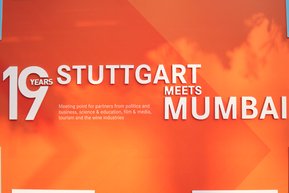 After a two-year pandemic, the wine festival "Stuttgart meets Mumbai" finally took place again. Andreas Lapp, Honorary Consul of the Republic of India for Baden-Wuerttemberg and Rhineland-Palatinate, organised the event for the 19th time from 3-4 February 2023 on the grounds of the Taj Lands End hotel in Mumbai to inspire guests from business, politics, film and media, tourism, education and gastronomy with a colourful programme consisting of workshops, dance performances, musical interludes and live cooking for THE LÄND.
"With the wine festival, we celebrate the Indo-German friendship and the 55-year city partnership between Stuttgart and Mumbai. And I know from my own experience that the best contacts can be made at a relaxed meeting with good entertainment and typical local specialities. And that is important to me," Andreas Lapp knows.
The wine festival was also attended by a large delegation of representatives from the state government with Minister of State Dr Florian Stegmann, the city of Stuttgart with Mayor Thomas Fuhrmann and the city of Karlsruhe with Lord Mayor Dr Frank Mentrup. The approximately 2,000 guests from Germany and India were offered a lot at the wine festival "Stuttgart meets Mumbai": There were Swabian and Indian specialities such as pretzels, spaetzle and Maultaschen, wine from Württemberg and India as well as an entertaining German-Indian stage programme with Swabian folk music and Indian dance. During a live cooking show on stage, chefs Patrick Baumgartner and Marcel Laversa prepared traditional Swabian apple fritters and were supported by Stuttgart's Mayor of Economics Thomas Fuhrmann.
During the day, guests were able to find out about cooperation opportunities at eight different information stands. Among others, the Indian Business Center Stuttgart, the state of Baden-Württemberg, the cities of Stuttgart and Karlsruhe and the Filmbüro Baden-Württemberg were represented. In addition, several workshops and events were on the programme. Wuerttemberg winegrowers invited visitors to taste wine, the University of Stuttgart advertised opportunities for cooperation in education and the City of Stuttgart gave travel tips.