Exhibition "Indian Encounters"
From 19th until 23rd of July 2021 the Indian Honorary Consulate in Stuttgart was organizing the exhibition "Indian Encounters". For the 17th time young artists received a platform to present their works to a wide audience. The artistic works opened new perspectives on India and invited to engage in an exchange and dialogue. This year paintings, drawings and personalized items were exhibited.
Die Künstler und Künstlerinnen
Sharvey Salkar
Born in a family of artists and architects Sharvey Salkar started exploring painting and illustrating during his childhood. He explored different painting mediums and slowly developed a liking for water colour painting. This medium of painting helps him to express his ideas in the most efficient way and at the same time leaves a room for interpretation for others. Sharvey Salkar has never studied at an art school. Being surrounded by artists and architects like his father and grandfather, he could develop his painting skills. Sharvey Salkar studied architecture for a duration of 5 years in Pune during which he started looking at watercolor painting through a different perspective. During this time, he realized that conceptualizing paintings using architecture and landscape elements help him to express what he want to say in a much better way. In addition, he learnt Indian classical music for about 8 years. This experience leaves a huge impact on his paintings. At many times the music that Sharvey Salkar is listening to helps him to to give a different touch to his paintings.
In a nutshell, it could be said that Sharvey Salkars's work is highly influenced by architecture, landscape and music. Thus, watercolor painting for him is a way to express and emote what he sees, feels and what he wants to share with others.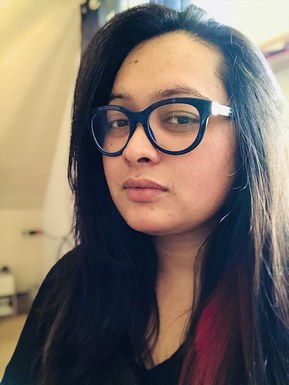 Pooja Rawat
Art is the celebration of expression through colour, light and texture. Art has no rights or wrongs, just an ever going learning and exploring. It has been a lifetime journey for Pooja Rawat, and the lack of a formal art education has only motivated her to explore, experiment and develop her creative side.
Pooja Rawat is currently exploring the world of portraits through water-based mediums. Maybe it is the thrill of unknown or her fascination with people, but it is very seldom that she paints someone she knows. She believes knowing the subject restricts her from taking bold steps during the recreation process. Her intention is always to create portraits that narrate the story that she imagines in her head. For Pooja Rawat it is a way to use colour, texture, and form to create visually cohesive and expressive portraits. This also provides her with the possibility to experiment with different application techniques and mediums. Through the exhibits here she has tried to show the beautiful, vibrant, diverse and lesser known side of India. Pooja Rawat has also recreated a few art works of Indian master artists of yesteryears to shine light on Indian art history.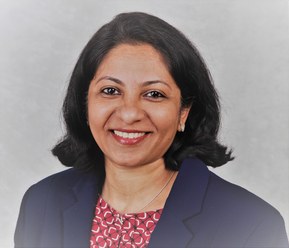 Kanchana V. Gokhale
The term "form follows function" strongly resonates with Kanchana V. Gokhale as an architect. This deceptively simple statement is an exercise that requires constant balancing between aesthetics and the end-user requirements. The intensive 5 years of her architecture studies and 17 years work experience have conditioned the mind to follow a pattern. We admire the lofty skyscrapers and sprawling complexes, the technological advances in construction but turn to the classics for timeless beauty. The lockdown and time on my hands lead Kanchan V. Gokhale to picking up her hobby in earnest. In the beginning, she started by combining symbols familiar to the Indian culture with abstracts. Reading about famous Indian folk arts like Madhubani/Mithila and Kalamkari and experiments with these styles satisfied the need for a new color rich perspective. Specifically, the Kachini style of Madhubani with the emphasis on fine line work and fewer colors has captured Kanchana Gokhale's interest. The love for architectural built forms and Indian folk art collaborates in her current set of artworks. Most of her works have a pastel color wash and fine penwork. Some have bold backgrounds to stand out. The use of mixed media enables Kanchana V. Gokhale to express her perception of the influence of art on architecture.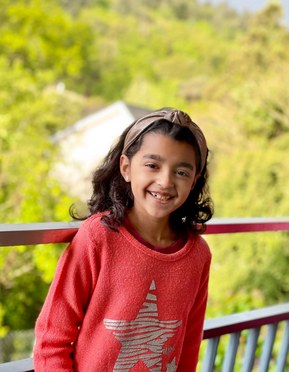 Nandini Parikh
Nandini Parikh is 8 years old and attends the second grade of the Weiherbergschule in Pforzheim. She was born in Mumbai and lived there until the age of 4, after which she came to live in Germany. Nandini Parikh has been painting since the age of 2 and has always been fascinated by bright colors, so she filled her art with bright colors. Until today she has not attended any professional art classes. Her mother has always been guiding and teaching her. Nandini Parikh started experimenting with shading on canvases. Later, she used different techniques and tools such as fan brush and sponge painting. YouTube has been a great teacher and source of inspiration to her. The student loves nature, flowers and landscapes. She gets inspired by the vastness of the mountains, the stillness of lakes and the perfection of flowers around her. Every part of nature has a different story to tell and hence her paintings too transmit different messages. Through her paintings she wants to depict positivity, happiness and calm. Nandini Parikh wants people to realize that there is so much beauty around us, we should learn to find that. A smile is what she wants to spread to everyone around her through her work.