Exhibition "Indian Encounters"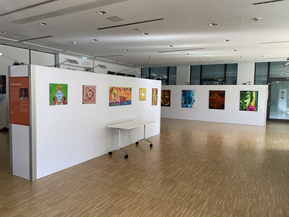 The art exhibition "Indian Encounters" takes place every year as part of the Indian Summer.
This year, the contemporary collective exhibition once again creates a platform for young artists to present their works on the theme of "Indian Encounters". In this way, the Honorary Consulate of India aims to promote intercultural exchange between Germany and India.
With their artworks, the artists Reena Bhatt, Supriya Savant and Poonam Kamath open up very different perspectives on India. On exhibition, in addition to paintings, are drawings and personalized products.
Visit the exhibition and let the art unfold before your eyes.
Daily, from 19. - 22. July 2022, from 10.00 - 14.00h
You will find all events of the Indian Summer (from p.68) and the Indian Film Festival in the program booklet.